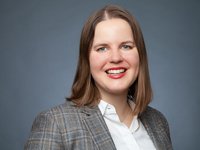 Board Member
Jun.-Prof.
Katharina
Blankart
Room:

WST-C.14.13 (WST-B.09.04)

Phone:

Email:

Homepage:

Address:

Prof. Dr. Katharina Blankart, MBR
Universität Duisburg-Essen
Campus Essen
Weststadttürme, Berliner Platz 6-8
45127 Essen
Germany
Bio:
Katharina Blankart is an assistant professor in empirical health economics at the Faculty of Business Administration and Economics of University of Duisburg-Essen, a full member of  the health economics research center CINCH and head of the junior research group "Empirical Analysis of Health Care Markets (EACH)". Blankart's research covers innovation management, regulatory science and analysis of health care system performance. Her research projects address market access and diffusion of health technologies, valued-based decision-making by health systems and providers, and the impacts of cost-efficiency measures on utilization. She is particularly interested in studying pharmaceutical markets and ambulatory care settings. Her projects use econometric methods that are informed by administrative data, document analyses and surveys. She is the recipient of the 2013 research award of the Society for Health Policy and Law to study health care systems.
Katharina Blankart received her degrees in economics and business research from Ludwig-Maximilians-Universität München (LMU). She holds a PhD in business administration with a focus on health economics from (LMU). She was head of the junior research group on pharmacoeconomics at Hamburg Center for Health Economics (HCHE), University of Hamburg between 2012 and 2016. In 2015/2016, she collaborated with Columbia Business School, New York, USA as visiting researcher.
Curriculum Vitae:
Professional experience
since 09/16
Assistant professor in empirical health economics,
Faculty of Business Administration and Economics, University of Duisburg-Essen, Essen, Germany
09/15 – 08/16
Visiting officer of Research,
Columbia Business School, Columbia University in the City of New York (USA)
05/12 – 08/16
Research associate at the Hamburg Center for Health Economics (HCHE),
Universität Hamburg, Hamburg, Germany
Head of the junior research group Pharmacoeconomics
07/08–04/12
Research fellow, Institute of Health Economics and Health Care Management, Helmholtz Zentrum München – German Research Center for Environmental Health, Neuherberg, Germany
Member of the working group Translational Health Economics
Education
05/2012
Completion of dissertation (Dr. oec. publ.) at Ludwig-Maximilians-Universität München, Germany
2009–2011
Post gradual studies, Master of Business Research, Ludwig-Maximilians-Universität München, Germany
2003-2008
Economics, Ludwig-Maximilians-Universität München, Germany
Honours and Awards:
17th Research Award of the Society for Health Policy and Law 2013, Munich
Fields of Research:
Market access and diffusion of innovations
Competition and agent behaviour in regulated health care markets
Management of technologies and health
Quantitative methods
Memberships:
Academy of Management (AOM)
German Academic Association for Business Research (VHB)
Verein für Socialpolitik (VfS)
German Health Economics Association (dggoe)
International Health Economics Association (iHEA)
Other Duties:
Reviewer activities
Peer-reviewed journals
Health Economics
PharmacoEconomics
Applied Health Economics and Health Policy
European Journal of Health Economics
Health Policy
International Journal of Technology Assessment in Health Care
BMC Health Services Research
Applied Economics Quarterly
B.E. Journal of Economic Analysis and Policy
BMJ Open
ClinicoEconomics and Outcomes Research
Drug Discovery Today
Expert Reviews on Orphan Drugs
Health Research Policy and System
Pharmacotherapy
Pharmacy Practice
Perspektiven der Wirtschaftspolitik
Conferences
World Congress on Health Economics, International Health Economics Association, 2014
Annual meeting of the German Academic Association for Business Research, 2016
Academy of Management, 2017, 2018
Voluntary commitments
Young Lion Health Parliament, first period, organization committee 2012-2014